The formation 4-3-3 has been used for decades by many teams. Recently, teams like AFC Ajax and FC Barcelona have used this system. In a 4-3-3 set-up, we have a midfield working together. Usually with a DM (defensive midfielder) who sits deep, at times dropping between the center backs, while the other two central midfielders operate in an advanced position. One stays deeper, while the other is in a more advanced position to support the front three; not as advanced as the play-maker though.
Let's take a look at FC Barcelona's Formation
As we can see in this image, Xavi and Andrés Iniesta are the more advanced midfielders. Of the two, Xavi is the one sitting deeper along with Sergio Busquets; while Iniesta drives the attack.
One interesting thing about the 4-3-3 is that, it can change during the game. Take a look: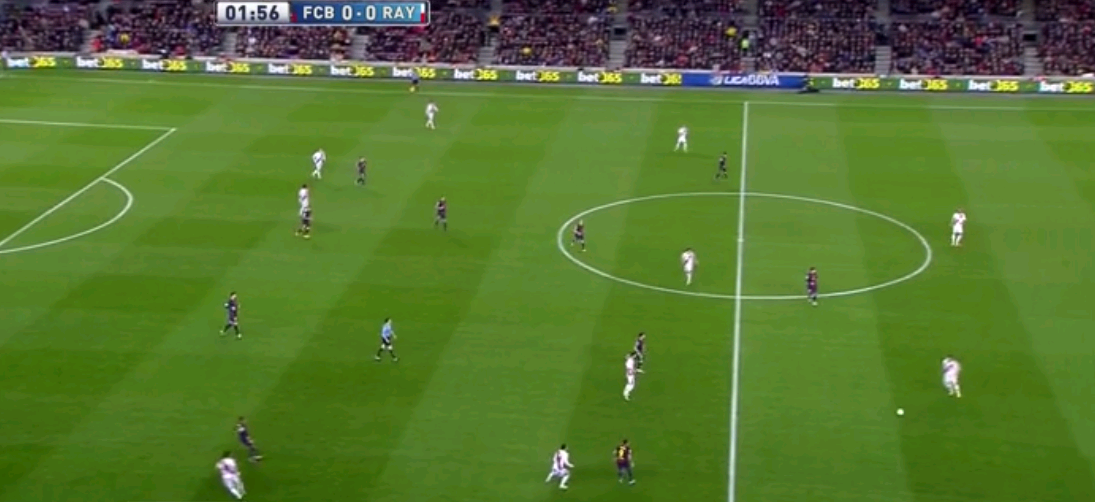 Against Rayo Vallecano this season, the formation changed during the game. Barcelona pressed (as usual), so from time to time they stood in a 4-1-4-1 formation which switched into a 4-1-3-2, but more often they always found their original shape when recovering the ball.
The 4-3-3 formation, therefore, is one for which you must find the right tools or players.
Now Let's look at Madrid's 4-3-3
Before we start, I should note that the real key to Madrid's midfield is Ángel di María. His defensive work-rate cannot be underestimated. But even though he does so much defensive work, he still goes to contribute to the attacking play as he's the one supporting Madrid's forward-line of Bale, Benzema and Cristiano (BBC).
One problem with the midfield is Xabi Alonso, as he's supposed to be the deepest in our midfield three. But for several games in a row now, he doesn't always stay deep as he should.
In this diagram above, you can see that he was misplacing passing all over the pitch against Sevilla FC. The problem with Xabi Alonso is that he doesn't run much and has difficulty passing the ball now under pressure. The Sevilla midfield pairing of Trochowski and (principally) Rakitic, worked extremely hard to close Xabi Alonso down to prevent him from play-making for Madrid.
For the first goal, Xabi (ostensibly the deeper midfielder) was caught up-field after losing the ball twice. If Di Maria had played this would not have happened. But it comes down to Carlo Ancelotti insisting on playing Modric to on the left of midfield when he is the player that also likes to play deep. Madrid was lacking a play-maker.
On the subject of Modric: as great as he's been for several months, he's lacking something now. In midfield, he's supposed to be the one to control the midfield, like Xavi does or used to do for Barcelona. However, Modric doesn't do that - at least until recently. He often struggles against physical opposition. Is he too small, or does he lack the quality to handle big games? We can't be certain, and perhaps it has something to do with coaching.
Wingers not getting involved
Our midfield gets played through too easily. Even when we have Di Maria pressing for most of the game, Alonso and Co. have too much of the midfield to cover. Against Barcelona, it was a disaster - Andrés Iniesta and his teammates had too much space to work with. If you observe the front three, they will apply pressure, but as soon as the opponent gets begin to press, they fail to drop back. This is true of CR7 in particular. What many don't understand is that in the 4-3-3, every player has to work for every other; it's the best way to fight for space in the central areas of the pitch. CR7 , even when closest to the opponent in possession of the ball, does not drop back and lets another Madrid player pick up the slack by committing a challenge or pressing.
The Gap between the lines
Alonso is getting older, and in this current system, he has to do much more defensively now. But at times, Madrid are having a hard time closing the gap in the midfield for the following reasons.
1. Winger's pace.
Ronaldo and Bale can really surprise their teammates with their sprint during the game. The front three faster than their teammates in midfield, most especially Alonso. When the BBC attacks with pace, the players in midfield either back them up to close the resulting gap between the lines of our formation, or stay deep and let the BBC attack on their own. But this is not advisable because the BBC will always need support. In the past few games it has been obvious that Di Maria has the speed to keep up the likes of Ronaldo and Bale to back up the attack. However, without Di Maria, who is the only midfielder to be able to keep up, Madrid are unable to compensate. An older Xabi Alonso will never be able to compete with better opponents on his own.
2. Wingers As Midfielders.
Ronaldo and Bale are attack-minded players. But they are lacking when it comes to build-up play. Bale is locked down on the right wing with no one trying to get him into play; and when he gets the ball, he runs forward with pace. As for Ronaldo, he shoots for goal on sight. If fans pay attention when Madrid have the ball, the middle of the park is empty. When Di Maria, Ronaldo, and Isco are playing, all prefer to attack down the left. When that happens, it leaves Alonso alone in the centre of the pitch. As for the right wing, Modric does occupy the middle at times, but he has to get himself more involved in the final third. Asier Illarramendi is a great player too, but he's limited when pinned back and playing as a fullback looking for simple passes, when he's supposed to be the one to dictate the game alongside Alonso.
Earlier this season there was a gap between the defence and the centre of midfield. When the midfielders moved up, the center backs mostly stayed back back. Carlo Ancelotti should get credit for fixing that. But the gap between the midfield and the attack seem to have gone unnoticed.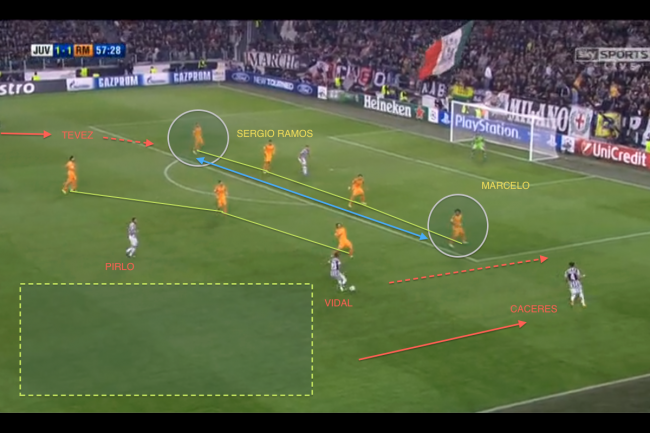 This diagram shows Madrid playing Juventus F.C. this season. I think this image illustrates my point. It would seem, from this image, that Real Madrid were playing with seven players, not eleven. You have Marcelo who had to stay in position because he didn't want Martín Cáceres to overlap while Modric was trying to apply pressure on Vidal. Look closely however and you will see that Andrea Pirlo was not being pressured by any of Madrid's players, leaving him in space. Modric should have been helped by CR7, that way Modric would have been able to track Andrea Pirlo. Marcelo wouldn't have any problem coming out of position because Vidal's passing options would have been closed down.
Final Take
During José Mourinho's time the team was compact, even though fans complained that the football was unattractive. As a fan, I am looking forward to seeing how the team respond to their recent loss on the week-end, but I remain skeptical. The players have to work harder. For the Copa del Rey final, Madrid have to play as a team, and stay compact from defense to midfield if they want to catch a glimpse at the trophy.