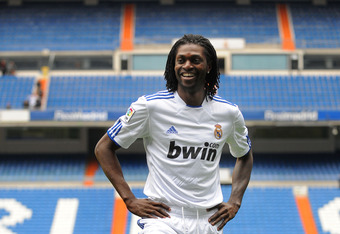 C/O Denis Doyle, Getty Images
New
article
up over at B/R about Madrid and Adebayor (who played with the boys at Castilla today to get back into form). Here's a selection, check out the link to get the whole thing!
If Madrid, and José Mourinho (who's pretty polarizing in his own right) manage to contain Adebayor, and channel his talent onto the pitch, then they could end up with a fantastic striker, a world-class goalscorer, and an invaluable piece in the evolving puzzle that is Real Madrid. But if Adebayor blows up and causes friction in the locker room, then the us-against-them mentality that Mourinho strives to create in every team he coaches will give way to private battles and internal divisions.

That's why I like this move for Madrid. The team's offense has looked anemic recently, relying on short bursts of brilliance from Cristiano Ronaldo (and occasionally from Mesut Özil, Angel Di María, or even Karim Benzema) to score goals. Mourinho has become visibly frustrated by the team's output--so much so that he has banned himself from post-match press conferences, sending Aitor Karanka in his place. The Portuguese coach has called for a striker both publicly and internally, and has been so loud that he has begun to fall out with Jorge Valdano, President Florentino Pérez's right hand man.

Signing "Ade" is not so much an act of desperation as a calculated, high-stakes hand of poker: if the right cards come up, Mourinho will have his world-class striker who will deliver a burst of attacking energy to his team. And if the cards don't fall the right way? Well, this Madrid team is young, "not a finished product," as "the Special One" has said many times.

But I think the executives in the offices overlooking la castellana are playing the right odds with this signing. To continue the poker analogy, they're going all-in with a good shot of winning the hand: they are essentially renting Adebayor's services for this year at an extremely minimal cost (half of his salary, or 4 million Euros), and in the process are adding a disgruntled 26-year-old former superstar striker who will be looking to prove his worth. From day 1, Mourinho will have Adebayor on a mission to prove everyone wrong, to showcase his worth to the team, and to prove he's still the player he was a few years ago. If things don't work out, Madrid can cut their losses by not signing "Ade" this summer, and pursuing Fernando Llorente, or "Kun" Agüero instead. In principal, this deal is a match made in heaven for both sides.
He's a great player and we will hopefully see the best of him this season. Welcome to the greatest club in the world, Emmanuel!