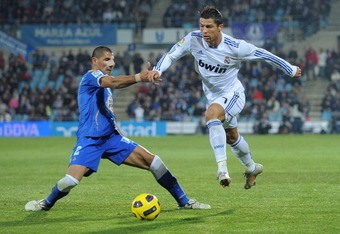 C/O Dennis Doyle/Getty Images
I'm gonna post my newest 
article
 here verbatim, because I think that it's important for people to read it. I pretty much argue that though Madrid has an incredible player in Cristiano Ronaldo, we need to find other viable offensive alternatives--the reason Cristiano has been so incredible for us is because we
need
him to be incredible. We use him on almost every offensive possession, and defenses are beginning to realize that stopping him means crippling our attack (as evidenced in our most recent Liga matches).
Cristiano Ronaldo is a really good football player: that's a fact, and really should not be contested, no matter how much you dislike the guy. He gets a lot of flak for his past indiscretions--on the football field (his diving, particularly when he played for Manchester United), and off (he's a bit of a diva)--but ultimately, he's a great player. He's extremely fast, doesn't seem to get tired, is ultra-competitive, and has incredible ball skills that compliment his unbelievably powerful shot--among other things.

Currently, he's in the middle of his best statistical season: he's averaging more than a goal per game (32 goals in 30 appearances), and already has more assists than he did all of last year (9 as opposed to 7). In his Real Madrid career he has scored 65 goals in 65 matches, with 16 assists. If he ends up playing in around 50 matches this year for Real Madrid at this pace, he'll score more than 50 goals: that's eight more goals than during his Gold Ball season of 2008, and he already has more assists. Those numbers are sick--awe-inspiring, even.

But football isn't a numbers game. Sure, whichever team scores more wins the game, but one player's statistical dominance can signify that the team actually relies too heavily on that individual player. Teams that produce great statistical performances from a few players tend to have serious problems when an opposing team successfully guards their star player (or players) because they have no viable plan B.

Here's an NBA parallel: Amare Stoudemire has so far had one of the best statistical seasons of his career for the New York Knicks. There's no doubt that Amare is a great player, and that the Knicks are a much better team with him on the floor--but he's their plan A and plan B (Raymond Felton is plan C, followed by Danilo Gallinari at plan E, Wilson Chandler at plan G, and Timofey Mozgov at plan й), and when he isn't playing well, the Knicks will probably lose. [Don't be fooled by my Knicks-mockery--I really enjoy watching them play, and think Mike D'Antoni is an offensive genius.]

It's the same with Real Madrid (though to a bit of a lesser extent): if a team can completely shut down CR7--a tall task--Madrid suddenly has to find a new way to attack, and has to pin their hopes on players like Mesut Özil, Ángel di María, or Karim Benzema. This isn't to say that Madrid is unable to attack without Ronaldo; rather that erasing CR7 removes los blancos main goal-scoring threat, the player who tends to be on the end of those quick, vertical counter strikes that epitomize Madrid's football.

In many ways, a rejuvenated Kaká will solve Madrid's problem: he could be a very viable plan B if he returns to his 2007 form, because he has the potential to take over a game and draw defenders towards him. If this Kaká emerges as the season progresses, Madrid will suddenly become a much more deadly team because opposing defenses will have to worry about a plethora of viable attacking options. Not only would his presence invigorate Cristiano Ronaldo, it will also draw more defenders away from other midfielders like di María or Özil, who flourish with more space.

Real Madrid can and should keep riding Ronaldo's amazing play--there's no reason to think he'll slow down, and he has no history of major injury (knock on wood). But they do need to find options that can compliment his particular set of skills. A rejuvenated Kaká should add a lot to the team, but this eventuality is uncertain: in light of Kaká's series of knee injuries, Madrid needs to look to other options to lighten the amount they rely on CR7.

Cristiano's dominance this season (and really in his whole Madrid career) should come with the caveat that he has an incredibly high usage rate. Both Pellegrini and Mourinho run their offense through him; this allows teams to focus in on him, to expend almost all of their energy in shutting him down. While this doesn't normally work--I mean, look at those numbers!--there are some examples of good defensive teams shutting Madrid down by constantly hammering CR7. Los blancos need another consistent offensive spark to take pressure off Cristiano--whether this comes in the form of another striker, Kaká's resurgence, or even a return to form of Benzema, Madrid as a team will benefit greatly from scaling back their reliance on CR7 because it will make them more consistent.

With more viable offensive plans, Madrid would become less prone to losses against teams that hammer Cristiano. They could still rely on him offensively, sure, but there would be other consistent, viable options to turn to if he has a bad day or is shut down by an opposing team. There's no harm in a high usage rate, just the problem of over-reliance: Michael Jordan has the highest usage rate in NBA history, but he didn't win a championship until Scottie Pippin's usage rate began rising. The same will be true for Real Madrid.


Here's hoping we sign Van the Man, and that Kaká comes on strong in the second half of the season!