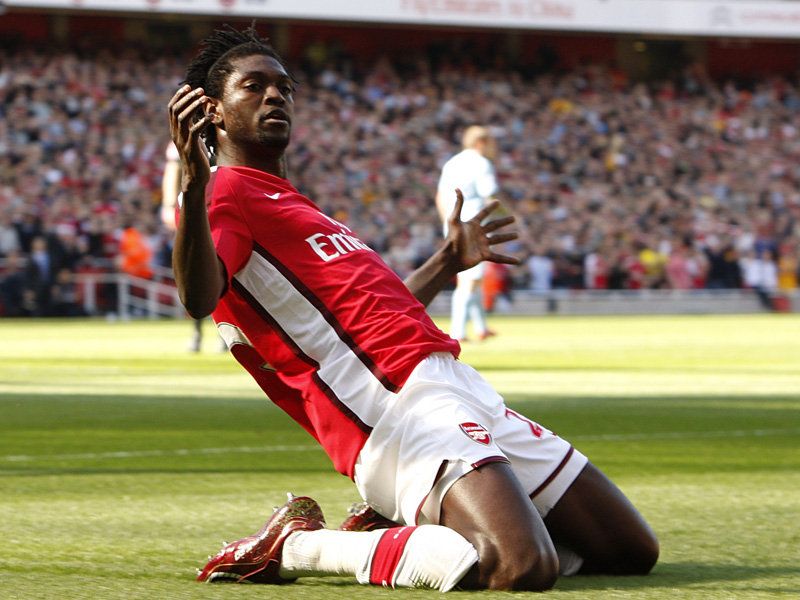 C/O Arsenal-highlights.co.uk
Well, Flo has done it again: Real Madrid has come to an agreement with Manchester City, and will obtain Togolese striker Emmanuel Adebayor on loan for the rest of the season. They will pay 4 million dollars, or half of the striker's salary, and have the option of buying Adebayor's contract at the end of the season for 15 million euros.
This agreement comes on the heels of Hamburg's refusal to sell Madrid Dutch striker Ruud Van Nistelrooy. After the German club communicated to Florentino Pérez that it would not sell the ex-Madridista, the Madrid president moved quickly to Manchester City to solidify the club's loan of Adebayor.
We'll have more on this developing story, but suffice it to say that Mourinho's call for a "9" has been answered by the club. Though Adebayor has a complicated, checkered past--he has fallen out with various teams--he could very well prove to be an important piece in Madrid's puzzle.
Los blancos
have lacked scoring punch in recent contests, and Mourinho has publicly called for a new striker to take the load off of Karim Benzema.
Adebayor was an important part of Arsene Wenger's Arsenal for many years, before he moved to Manchester City. He had purportedly fallen out with other members of City's squad, and had asked to be traded numerous times. Though he has not been in the greatest form so far this season, at best he is a very dangerous striker, who is quick, and creative in his shot definition. At his worst, he's a drain on the dressing room, and a non-factor in games. We'll see which version Real Madrid have gotten.