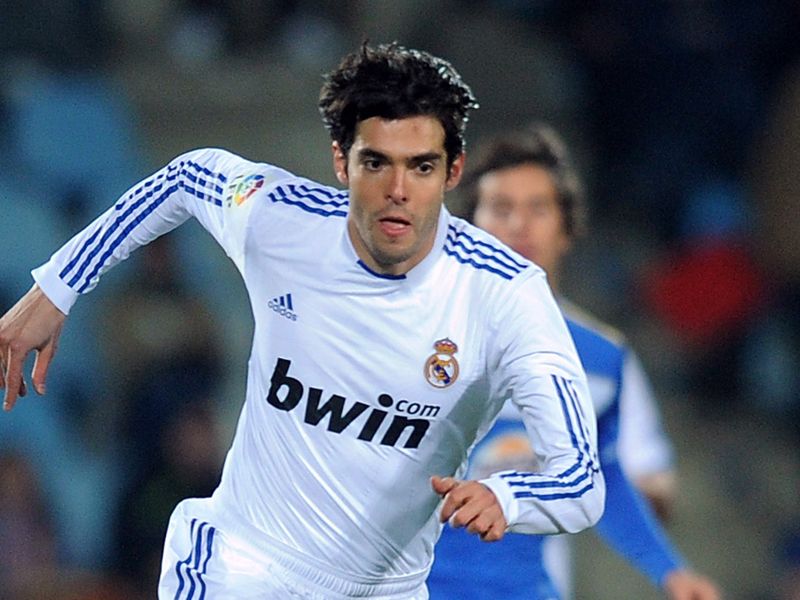 C/O SkySports
Kaká
made his "triumphant" return to the pitch when he was subbed on for Karim Benzema--who was quite mediocre--in the 75th minute of Real Madrid's 2-3 win at Getafe. The game was pretty messy, as we took a two-goal lead twice, only to give one back twice, and neither team seemed to really
want
the game. By minute 75, when Kaká finally got on to the field, the game was broken--while at first the teams had traded blows, with vertical, fast-paced play, by the end both teams were sloppy and imprecise.
It was only when Albín scored for Getafe in the 85th minute--on a mistake by Marcelo, who had a pretty good game by most other standards--that the game looked uncomfortable for Madrid. Kaká was nowhere to be found for most of his 15 minutes, but this might have been because
los azulones
were pressuring frantically to try to tie the game. Still, he looked a little slow when he was involved in the attack, but that's to be expected after being off the field for four months.
A couple more notes from the game:
Benzema
looked mediocre on the ball, slow and timid in his runs, and only really shined when he created chances for others. He assisted CR7 on his second goal, and probably would have had a couple more assists had CR7 decided to run a bit harder at Karim's pass across the face of goal, and if Di María hadn't botched a maddeningly easy 1-1 with the keeper.
Lass Diarra
 was subbed off at halftime; Sami Khedira took his place. Neither player looked particularly good on the ball, though both did a good job of winning possession in the midfield. I would have liked to see Granero get a bit of run in this game, as Khedira doesn't represent a huge change from Lass stylistically, and we looked bogged down in midfield. Xabi thrived next to Granero the last few times they played together, and
el pirata
could have been a good spark for Madrid's attack.
Di Maria
flopped a few times at the end of the game to buy some time. This acting has become a problem for the young Argentine, mainly because he's so talented and exciting to watch that these sort of antics take away from football. He looks a bit like Cristiano did in his first year with Manchester: very talented, lighting up the league, providing a spark for the team--but also getting a reputation as a diver.
Finally, for the second game in a row, the referee--in this case,
Undiano Mallenco
--was terrible. I don't know what exactly is going on here, but some of his calls were absolutely inexcusable: giving
Arbeloa
a red card for putting his hands over his head when a ball was struck at him? What's the justification for that? A deliberate, play-stopping hand ball is a yellow card; a ball striking a player's hand while the player is defending himself is not even a foul!