Note: this article originally appeared on Bleacher Report. Unfortunately, due to ethical issues arising from Bleacher Report's decision to publicize an article capitalizing on the tragedy in Japan to drive hits to their site, Managing Madrid's writers will be taking a brief hiatus from posting anything there, and, depending on their response to this violation, may quit the site entirely. 
We encourage you to educate yourself about the tragic tsunami, and to donate money to the victims by giving to the American Red Cross, the International Rescue Committee to help internally displaced people, or to any other organization providing support to the victims. 
Ever since Real Madrid's Brazilian megastar, center-midfielder Kaká, made his triumphant return to the pitch—after undergoing the excruciating and lengthy process of arthroscopic knee surgery and rehabilitation—I have been getting (heated) questions from fans about why José Mourinho won't reinsert him into the starting lineup.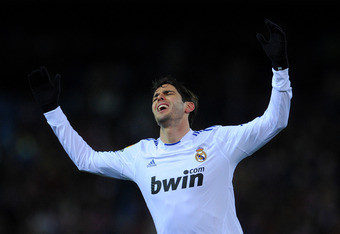 Getty Images
He's a great player, I've been told, one of the best ever, a clutch, creative center-attacking midfielder who can create goals from scratch!
He's certainly an upgrade, they say, over young Mesut Özil, the German playmaker who has been both brilliant and completely absent during stretches for Madrid this season.
These questions, and the whole debate over what to do with the Brazilian superstar—including the buzz surrounding a possible transfer—are indicative of a trend in modern sports: fans frame their views on sports through the lens provided by video games. For example, to assume that when players are no longer injured, they should be re-inserted into starting lineups is to grossly oversimplify sports medicine and psychology.
Because of this, fans tend to minimize the mental toll that injuries have on a player: while Kaká, for example, may feel completely better, it could take up to an entire year to recover from the shock of experiencing such a long-standing, painful injury. Before his surgery, he taught himself to play with his pain, altering his game to play within his physical limits; now that he has begun to surpass these previously set limits physically, he has to begin the process of teaching himself to reinvent his game around his healthy body.
This process will take much, much longer than the period of physical rehabilitation he underwent after the injury. In fact, in many cases, athletes can take up to a year after they're fully recovered to "feel at home again."
Just ask Patriots quarterback Tom Brady, who spent an entire year away from the gridiron rehabbing from his horrible knee injury in 2008. You have to make a "concerted effort to move on" from that kind of injury, Brady said in 2009—and even in his case, he didn't look like the MVP-caliber quarterback that he had been up until the injury, until 2010.
Sports-medicine experts often say that it takes at the very least two months for players to regain their confidence—and it can sometimes up to a year.
Or ask Brandon Roy, the former all-star shooting guard on the Portland Trailblazers. Roy has had so many knee operations that he literally has no more cartilage left in his knees; at 26, he has had to adjust his game to fit his deteriorating body, something that has left him speaking like a 42-year-old pitcher coming off elbow surgery.
"I would love to play more minutes and have a much better body, but it's just not the case, so I have to try and make the most of what it is," he said. "Yeah, I gotta adjust. It's time to adjust."
So why are we so quick to insist that Kaká should either be moved immediately back into the starting lineup, or moved somewhere for 25 cents on the dollar? His case is nowhere near as bad as Roy's, and he hasn't even had half a season to adjust to his new body.
He is still a great player--he's 28, and was the FIFA World Player only a few years ago—but he's also still recovering from his debilitating injuries.
Madrid needs to patiently wait this one out.
But that's the problem. We're living in an age of instant gratification, of arbitrarily assigned numbers attached to athletes that value their skill on a 0-100 basis: we're living in a FIFA generation.
We see that Kaka has come back from injury, and that he has a higher rating than Mesut Özil—obviously, we think, Mourinho should play the player who's rated 86 over the player who's rated 81, it's a no-brainer. They're both marked "CAM" on FIFA 11, so they should be interchangeable.
We see a highlight reel of Kaká's best goals on YouTube and wonder aloud why a player of such talent isn't starting on Real Madrid. We put him back on our FIFA teams and instantly, the team jumps up a point in the "Midfield" category.
That's not how life—or football—works. Kaká might one day be that incredible, electric player that he was for Madrid last season or for Milan during that incredible 2006-2007 season. But a manager's job is not to assemble a team based entirely on numbers on a page or valuations on a video game: it's to gauge individual fluctuations of form and relationships on the pitch. Not only is Kaká still working his way back—mentally and physically—from his injury, he is simply not playing as well as Özil.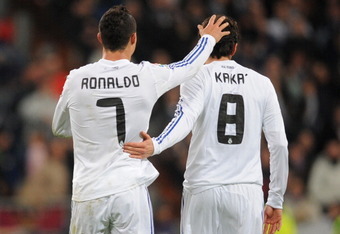 Getty Images
At the moment, Mourinho's job is to figure out which players work best with the other players: a team is more than a conglomeration of talented players—it's a tactical unit, a single entity that exists because of the relationships between each individual.
At the moment, Özil fits this tactical schema, and Kaká—especially in his weekend state—does not. Mesut Özil and Kaká may have the same positional designation in FIFA 11, but each player has a very distinct game.
Kaká is great at running with the ball at pace, and developing attacks based on his on-ball presence; Özil is adept at through balls and counter attacks, moving sharply in small spaces without the ball and with the ball, and finding players on the run.
This is the flaw of the FIFA generation: they cannot understand that these players not only serve different functions in the manager's tactical schema, but also cannot understand the small-scale fluctuations in form and inter-player footballing relationships that would lead to a manager benching a "superior" player in favor of an "inferior" one.
They can't understand why Mourinho would keep playing Sami Khedira (another example), over other players because FIFA doesn't reward positional defense and schematic, tactical defensive midfield play. They see Lass Diarra's work rate, his pressure, his strong challenges and cannot fathom why this player would not start over the obscure, hard to place, Khedira.
What Mourinho has in Khedira does not translate on to FIFA—a player who fits his tactical diagram perfectly, a strong positional defender, who calms play down without making flashy tackles. I'm not saying that Lass isn't fantastic, or even a great player to have on the pitch—I'm just trying to explain why Khedira has started a majority of Madrid's games this season.
In the end, Madrid's relationship with Kaká may sour. He may end up playing in England or Italy next year, lighting it up in another competition. But I have more faith in Madrid's organization, and in José Mourinho than that.
I think that they recognize that the real recovery time of this injury is more like a year, and that Kaká might very well come back a stronger, better player than he ever was next year.
They recognize that while the FIFA generation fans want Kaká on the pitch now, it will only hurt the team; but they also recognize that to sell him now—because these same fans think that his current production means that he will never get better—would be to lose out on a potentially great superstar.