Zinedine Zidane's aura of invincibility is beginning to fade as Real Madrid drew for the fourth consecutive time in the last league match day against Eibar. Three points earned of a possible nine in recent La Liga games and the squandered opportunity to capitalize on Atlético Madrid and Barcelona's stuttered starts have created unfortunate parallels with previous seasons. The unforgiving nature of a league race makes it clear every point matters. That seems to be truer in Spain (especially for the two behemoths) where the smallest margins can make all the difference.
Failing to impress?
Despite starting the season with six wins and creating many good chances in the four draws that followed, there are persistent questions about the team's performances. Displays haven't been luxurious and the template and execution feels somewhat unpolished. The club has yet to truly lavish its fans with a flawless showing. These observations are valid as there is a strong precedent and basis for a sharper more systematically cohesive Real Madrid. The clearest example was at the height of Carlo Ancelotti's dominant, fluid, and purposeful football.
However, despite the above being true, the criticisms have been overstated and misrepresented by the media. The contrast between the favourable memories of previous campaigns that focus on the best moments against the present version of the team creates a distorted frame of reference. More than judging the team for its core quantitative and qualitative merits, the benchmark is elevated from satisfying competitive objectives to conforming to a subjective interpretation of the preferred method. Zidane's words when he took over in January of this year and spoke about progressive possession based "attractive" play contributed to the aforementioned perception bias.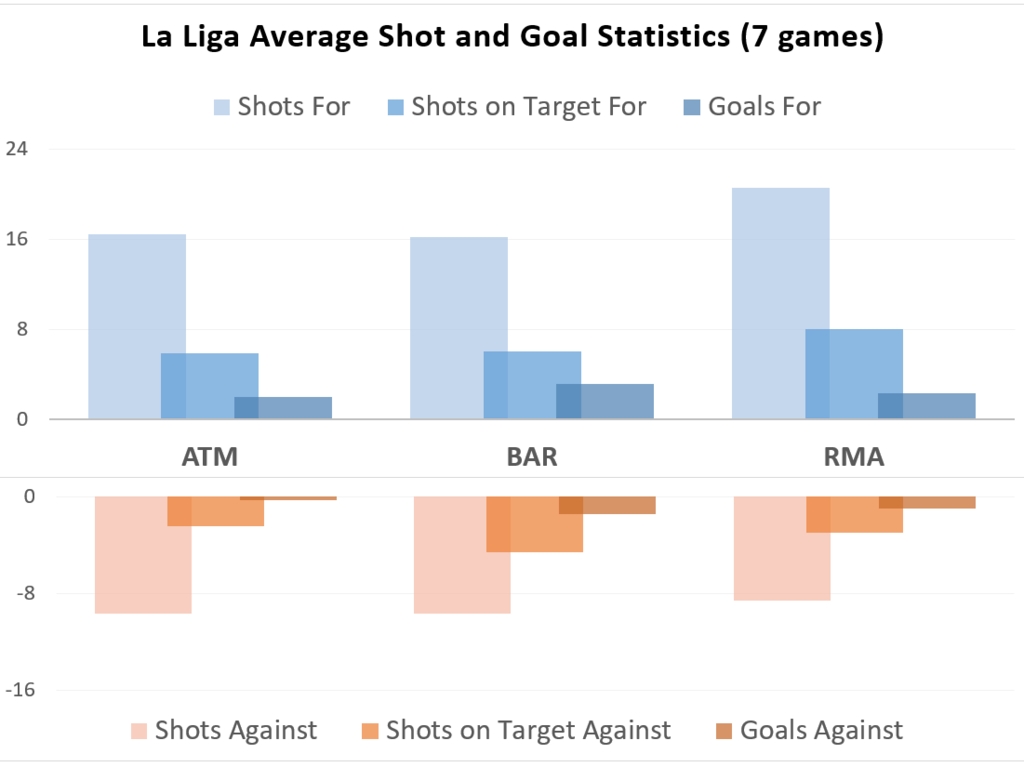 The lack of fluidity (which is far less pronounced than is claimed), possibly explained by injuries and the continued evolution of Zidane's adaptation of Real Madrid, does not mean the club has played badly. In the league to date, Zidane's men have averaged the highest shots and shots on target of the three presumed title challengers. Real Madrid also lead in shots conceded allowing the fewest shots per match.  Atlético Madrid's defense remains unmatched where shots on target and goals conceded are concerned but Los Merengues are not too far behind.
From a net differential perspective, Real Madrid edge out Barcelona and Atlético in both shot metrics but fall short of their goals difference. This level of sustained shot dominance is a good indicator of baseline performance and reinforces the credibility of the strong start (the first six games) to the season and the positive tone of the draws. Managing this despite the subpar form of key players signifies that improvements can realistically be expected. BBC haven't shined, Marcelo  has lacked focus, Carvajal's positioning has not been ideal, Ramos and Varane have been error-prone, and the midfielders have not been consistent.
Perhaps most critically, finishing has been an issue as the eye test would suggest in the last four matches. The team's conversion rate is 11% compared to Atlético's 13% and Barcelona's 22%(!). Real Madrid's conversion rate is 4% below its 10-year average while Atlético are on par  and Barcelona has outperformed theirs by 5 percentage points. This means Barcelona could regress as the season progresses while Real Madrid's scoring woes can be attributed to poor final touches as opposed to the quality of chances created. The shot dominance will be able to translate to better results if finishing can eventually align to the expected standard.
The question remains whether there is a more fundamental reason for the four draws (the first time in over 10 years). The supposition is that the issue at its root is structural and a result of a failure to develop a more defined and coherent system.
Principles of play
The system under Zidane's relatively short tenure has undergone a transformation from a palpable illustration of what he initially described when he was hired to the current mixed and more mechanical configuration. Regardless, there have been constant themes (many of them continuations or enhancements of pre-existing tenets). The UEFA Champions League Technical Report 2015-16 provides a summary of them:
1-4-3-3 with single screening midfielder and clear attacking philosophy
Emphasis on flowing combination play carrying game to opponents
Outstanding goalscoring potential: Bale, Benzema, Ronaldo
Balance between defensive/creative skills in midfield (Casemiro, Kroos, Modrić)
Full-backs ready to support attacks in final third, deliver crosses
Physically strong centre-backs; aerial power, distribution to midfielders
Modrić the playmaker; comfortable in possession, good game-opening passes
High pressing a key weapon for ball recovery, allowing full-backs to retreat
Effective blend of elaborate attacking moves and direct supply to fast front three
Tactically mature side; strength in depth; winning mentality
These are highlights of key features of the team. They aren't necessarily reinventions but conceptual underpinnings of the tactical framework. Marcelo, Carvajal, and Danilo have all thrived under Zidane and he has accentuated the effectiveness of their participation and support in attack. Our centre backs' incredible athleticism and the accommodating 4-3-3 formation introduced by Ancelotti to integrate BBC are also clear success factors.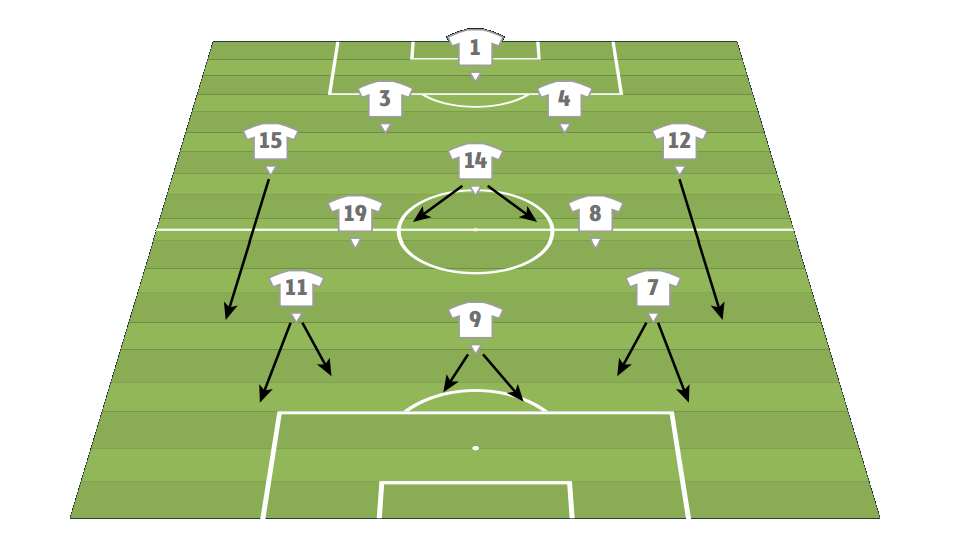 [Graphic retrieved from UEFA Champions League Technical Report 2015-16]
Selective use of fast tempo direct play or gradual build-up by capitalizing on the dynamism of exceptional midfielders provides incredible value. Kroos and Modrić are great assets in this context and the latter's versatility and technical ability enables the manager to implement different strategies. Modric has an easy claim as the most important midfielder in the team due to his capacity to operate well in different conditions.
The depth of the team remains one of its best qualities as there is sufficient coverage in all departments. Some areas are less insured than others such as defensive midfield and the full backs but there are several ways to compensate for the absences of Casemiro or any of the starting full backs (Marcelo in particular). The match vs. Borussia Dortmund showed the capability to cope without either who are essential in the current scheme when healthy.
The way forward
The return of players from injuries in upcoming months will be a significant boost to the team. Keylor Navas played his second game, since his return, against Eibar and Real Madrid will hope to once again rely on him to give them an added advantage. Casemiro, whose absence has been sorely felt, should be able to restore a higher level of solidity and Marcelo will improve verticality and dynamism when the Brazilians regain fitness.
Yet to lose, European Super Cup winners, and tied (points wise) for first in the league and the Champions League group stage is undeniably a very good position to be in at this stage of the season. That being said, the opportunity to build a significant advantage was missed and that is a disappointment.  Returning to winning ways is important and should hopefully happen in the next game. Injuries, player form, and Zidane's work in progress are hampering the precision and smoothness in Real Madrid's play but the team has played very well to date as evidenced by its shot dominance. There are slight causes for concern but many reasons to be confident about the team's prospects this season.