Real Madrid's midfield riches and general squad depth mean Zidane faces a difficult task before every game to name his first eleven. Starting the opening league match of the season with players such as James, Isco, and Danilo on the bench is not something many teams can afford to do (literally and figuratively). And with high calibre players such as Ronaldo, Benzema, Modrić, and Pepe ruled out for the game, the manager's headache might soon be upgraded to a migraine.

Is this a problem? Yes, but mostly no. An overload of talented players can make it complicated to meaningfully involve members of the squad in games. While this isn't necessarily an issue for the team, it can lead to situations where player dissatisfaction cascades into dressing room disharmony. As much as the manager should be able to implement strict disciplinary policies that prevent this from happening, there is always a risk. However, the benefits of having a large roster significantly outweigh this risk. A large roster, especially one composed of impactful players, gives the man at the helm options and options are key. Diversity in the talent pool is one of the most important features of a title contending team.
Asensio has shown every sign that he can be a reliable contributor and despite Kovačić's stuttered progression last season, the evidence from his earlier integration makes it clear he can readily influence gameplay. James and Isco are established players finding it difficult to secure a guaranteed starting spot in Real Madrid's luxurious midfield. Vázquez, one of Zidane's most trusted henchmen, has asserted himself as a balanced player that can participate in all phases of play. Casemiro -€" what else can be said about the Brazilian whose value to the team is unquestionable. His career path in the club is a shining example of what a great scouting network and player development system can achieve.
Elsewhere in the team, there haven't been many changes. This shouldn't in any way detract from the wealth of solid pieces available in every department. The trio of Ramos, Pepe, and Varane each have a claim as one of the best central defenders in the world. Nacho, as always, remains a competent backup for less demanding occasions. Danilo and the unfortunately underrated Coentrão offer great alternatives to Marcelo and Carvajal. Ronaldo and Benzema are recovering from injury but will hopefully rejoin Bale soon to lead the charge into the new season. The reigning European Champions are in great shape and Zidane has at his disposal a team capable of defending their continental crown while restoring domestic supremacy.
It's an incredibly exciting time to be a Madridista. Zidane's dream debut bolstered the confidence of a seemingly demotivated club. His visible affection for the club, status as a symbol of Madridismo, and control-based tactical system enamoured him to the fan base. The Real Madrid legend brought more than just style to the table as favorable result after favorable result ultimately led to the biggest triumph in club football. Although the team fell just short of winning the league, it forced a more entertaining end to the race than FC Barcelona likely cared for. In fact, Real Madrid averaged more points per game under Zidane than any other team from when he became manager to the conclusion of La Liga. Including the recent victory against Real Sociedad, he has the best winning ratio in the last six years for a Real Madrid manager after his first 21 league games besting titans such as Mourinho and Ancelotti.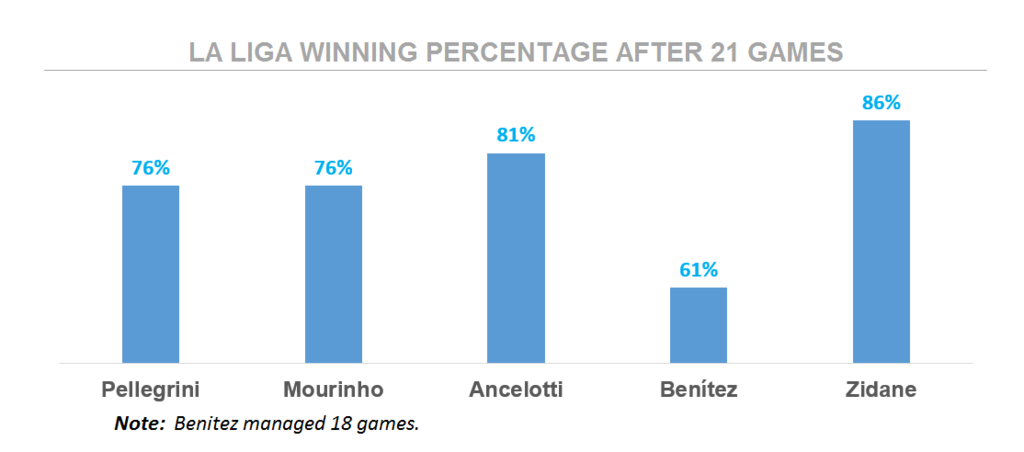 As with any euphoric period, Zidane and Real Madrid's current extended honeymoon must be observed with a degree of caution. Although the Frenchman's measured disposition and stout tactical discipline prioritizing the mitigation of risk over a more carefree exploitation of attacking potential have left little room for cynicism, there are still valid (if slightly overstated) concerns about the team's ability to utilize combination and progressive play more effectively. And furthermore, standard questions with regards to rotation and substitution strategies remain. These can grow to become truly problematic but for the moment are simply benign issues.
More than anything however, Real Madrid is positioned very well with an experienced group that Zidane can lead to historic success. It won't be easy and it's far from a given but there is every reason to believe in this team.